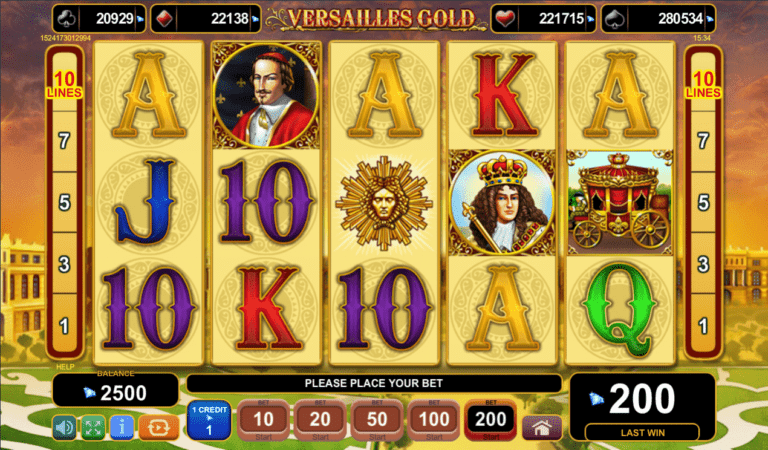 Versailles Gold is among the hits developed by EGT – Euro Games Technology. Here the usual vision of fruits is replaced with nobles. The creators of the slot have diversified not only the theme, but also the rules, betting on several additional features. Versailles gold game is supported on all devices, giving you the option to play from laptop, phone or tablet.
Как се играе Versailles gold
The slot Versailles gold does the play itself. You choose your starting bet, which can be 10, 20, 50, 100 or 200. If you want to change the bet, you use the stop spins button. The game starts by pressing the Play button. After each spin without a win, a new one starts automatically.
Winnings and bonuses in the game Versailles gold
In case of winning on any of the ten lines, it is reported and collected. You have the possibility to double the profit with the GAMBLE button in case the profit depending on the bet is less than the specified amount. For a bet of 200, the winnings must be below 7000 to activate the double button. It opens a window in which you have to guess the color of the drawn card three times in a row. Otherwise, you lose the staked profit.
There is also a 12-spin bonus level here, which is unlocked when 3 or more royal symbols appear in the field. One of the symbols that has a special status is randomly selected. When the special symbol is hit, it replaces the symbols on its reel and gives a win for every line played. A new 12 spins are added when unlocking a bonus level and count towards the initial ones.
Which online casinos offer the Versailles gold slot game?
To feel confident in your skills and gain confidence, you can play Versailles gold for free on the kazinoigri.com platform. Once you have acquired the necessary competencies, you can try your luck with real bets and win real money.
Frequently Asked Questions
Who is the manufacturer of Versailles gold?
The well-known software developer EGT – Euro Games Technology.
How many lines does the Versailles gold slot have?
How many columns does Versailles gold have?
What is the return to player (RTP)?
The return to the player is 96.37%.
What is the theme of Versailles gold slot?
The theme of the slot is Versailles Gold.
What is the minimum bet on Versailles gold?
What is the maximum bet on Versailles gold?
What is the maximum profit na Versailles gold?
You can earn profit up to 5000.