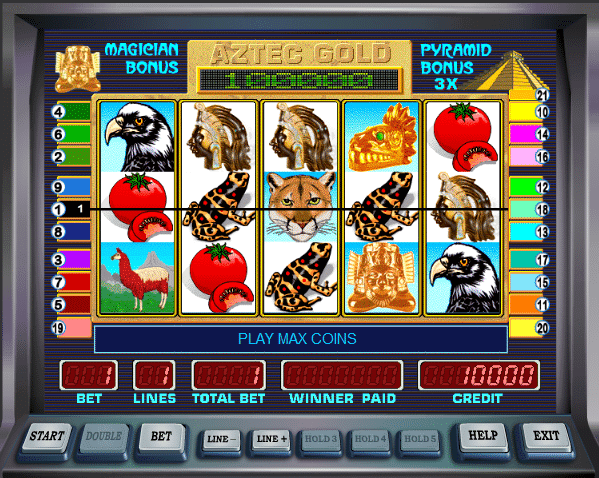 Due to their interactive nature, slots continue to be among the most preferred methods of raising adrenaline. The reasons here lie mainly in the fact that in this type of game nothing is under the control of the player and nothing depends on his actions, strategies or quick wit. The risk of the unknown and chaos raises the adrenaline, which in turn increases their popularity.
Aztec Gold е видео ротативка, с която може да пробвате късмета си докато сте пренесени в мистичния свят на ацтеките. Правилата на играта са лесни за запомняне, а удоволствието от играенето е гарантирано.
What is the Aztec Gold slot machine?
Aztec Gold was developed by CT Gaming and is actually one of the most popular slot games from this manufacturer. A true classic among casino games, Aztec Gold will take you to the territory of today's Mexico, where the mystical and unknown lands of the Aztecs once were. For fans of the extinct civilization, the game offers various functionalities, each of which hides unsuspected secrets or bonuses.
Both Bulgarian and international players appreciate the high functionality provided by the developers and have fun exploring all the possibilities of Aztec Gold.
Rules of the game Aztec Gold
Like any other slot game, the goal here is to hit as many symbols as possible with one spin on each reel. The game is based on pyramid-type slots, using a 3×5 grid structure.
There are 21 lines, but you have the opportunity to adjust the quantity according to your own requirements and desires. With the "Line" button you can limit them to an odd number of your choice (3,5,9,15, etc.).
The "Bet" button is responsible for the bet and with it you control the amount you are ready to bet. Each click on the button increases the value of the credit (from 1 to 100).
What are the profits in Aztec Gold
Although at first glance the game does not look like one that provides a lot, even big winnings, the truth is that thanks to all the bonus games Aztec Gold is a good opportunity to win a lot of winnings. However, the standard jackpot reaches only 10,000 credits, which is noteworthy that it is many times lower than other slots on the market.
Types of symbols in the game Aztec Gold
Symbols are the most interesting part of any slot machine. Aztec Gold is also not disappointed in this regard. The creators have tried to create symbols that fit perfectly into the line and theme of the game. And this slot game like most others is characterized by a wild symbol (wild symbol), which appears only on reels 2, 3 and 4. This wild symbol replaces all the symbols on the reel, except the bonus symbol.
The game also has a scatter symbol that can be dropped on any of the reels. To receive a cash prize, the scatter must have appeared on at least 3 of the reels. What does the skater bring you?
3 scatters – your bet is paid twice;
4 scatters – your bet is paid 10 times;
5 scatters – your bet is paid 50 times.
And if during one of the spins you are lucky enough to get a dragon symbol, and it is 5 times, then you will receive an increase in credits up to 10,000.
Bonuses in the Aztec Gold slot
The game also has bonus symbols located on reels 3, 4 and 5, which can win you the well-known Pyramid Bonus. With this bonus, different pyramids appear on the screen and depending on which one you choose, you will win an extra amount.
And if luck is on your side and you get on the diamond pyramid, you will successfully unlock another bonus level. In it you will find 5 rows, with 5 boxes located on them, in which various cash prizes are patiently waiting for you. If you get into this bonus game, you can win your bet multiplied by 390 times. But this game has its rules.
If you come across a snake, the bonus automatically ends and you return to the original screen. If you find the wizard, you win all the prizes in the order in question. And to make it even more intriguing, Aztec Gold has an enviable jackpot amount. To win it, you need 5 pieces of the strongest symbol on the payline.
Winning betting strategies at Aztec Gold
Given that the game is essentially a slot machine, where your chances of winning are always determined by your luck, we can not share with you strategies that always work. Sighting and arranging symbols is a completely random process controlled by a computer.
Guided by this as a general rule, we can tell you never to throw at such slot games with huge bets. Start with small amounts to test your luck. If you see that today the chance is on your side, you can gradually increase the value of the bet, but remember that self-control is key.
Fortunately, many games, including Aztec Gold, have a free demo where you can explore the game and your luck until you feel ready to start betting real money. And don't forget to trust a licensed casino when that time comes.
Mobile version of Aztec Gold for smartphone and tablet
If you are such a big fan of the game that you want to play even on portable smart devices, we have good news for you. Aztec Gold has a developed mobile version, thanks to which you will have access to the slot anywhere and anytime.
In order for the game to run on your device, it needs to have a flash player installed. The game is suitable for devices that support both iOS and Android as their main operating systems.
How to play Aztec Gold with real money
With its interesting graphics that give the feeling that you are in a real casino somewhere in Las Vegas, Aztec Gold is an extremely addictive game. We won't be surprised if soon after you start playing the demo version, you want to switch to the real version, where you will be able to make real bets and earn real money. In order to achieve all this and play all kinds of casino games freely, you should register on an online betting site that also offers real casino games.
Which online casinos offer Aztec Gold?
To make sure that everything will be fine with both the personal data you provide and the money you earn, bet on a licensed online casino that will give you access to clearly regulated games. Examples of casinos you can count on are PalmsBet, Winbet and Betano. In addition to access to the games, you will also find generous initial bonuses.
Frequently Asked Questions
And here are the most frequently asked questions gathered in one place:
Who is the manufacturer of Aztec Gold?
The developers of the game are CT Gaming, which is often called Casino Technology.
How many lines does Aztec Gold have?
There are 21 lines in Aztec Gold.
How many columns does the Aztec Gold slot have?
What is Player Returns (RTP)?
The player's return is in the high register – 96.5%.
What is the topic of the slot machine?
The gold of the Aztecs, hence its name.
How much can I bet on Aztec Gold?
The minimum bet to play Aztec Gold is 10 credits per line.
How much can I bet on Aztec Gold?
The maximum bet per line for the game is 100 credits.
What is the maximum profit?
The maximum payout for a standard jackpot is 10,000 credits.