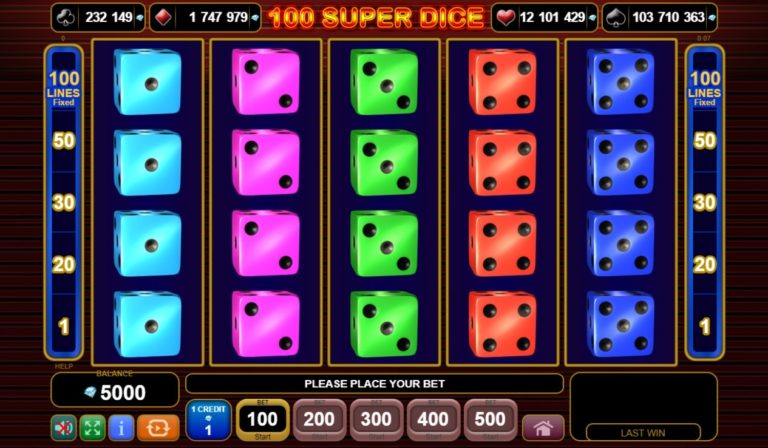 Welcome to the world of 100 Super Dice! This game combines the thrill of chance with the strategy of a classic dice game, making it a must for anyone looking for an exciting gambling experience.
Unlike traditional dice games, 100 Super Dice offers unprecedented combinations of 100 dice, giving you an even greater chance of winning. With each roll you are presented with a range of possibilities and the challenge of finding the combination of dice that will give you the highest score.
How to play 100 Super Dice
The 100 Super Dice slot, as the name suggests, features 100 paylines. The lines are fixed, so regardless of your bet, you always have 100 winning combinations open. The game features five reels and four rows, with colorful dice symbols.
You can choose your bet by simply clicking on the different levels. These are 100, 200, 300, 400 and 500. They are in the form of credits and make the game ideal for players with a low budget. All winnings are multiplied by the bet per line, which is the total bet level divided by 100.
There is no dedicated spin button, so as soon as you click on a bet level, the reels will spin. You can also spin the reels with the autoplay option. Wins are created from left to right, except for the scatter, which pays out in both directions.
Wins and bonuses in the game 100 Super Dice
The wild symbol is wild and can replace other symbols on the reels except the scatter and form a winning combination. It also offers 1000x your bet per line when you land five wild symbols on the reels.
There is a scatter symbol, but it doesn't offer any bonuses, so don't expect to find a free spins feature.
The slot offers a gamble feature that gives you the chance to double your winnings (at your own risk, of course). Note that you can only use this for wins that amount to less than 3500 times your line bet. Once you win, click on the gamble feature and guess the suit of the cards.
Finally, there is the Jackpot Cards feature, which is the progressive jackpot. It offers four levels and is triggered randomly after you win and collect your winnings. This is a pick-me bonus game where you try to match three of 12 face down cards. The bonus amount is constantly increasing.
Which online casinos offer the 100 Super Dice slot game
100 Super Dice you could play completely free on the accessible platform of kazinoigri.com. In this way, you get an opportunity to try your luck to gain confidence and experience in your further gambling endeavors.
On the right side of the screen, next to the game, you will see the most reliable casinos we recommend – Winbet, Palms Bet, Sesame and Betano.
Frequently Asked Questions