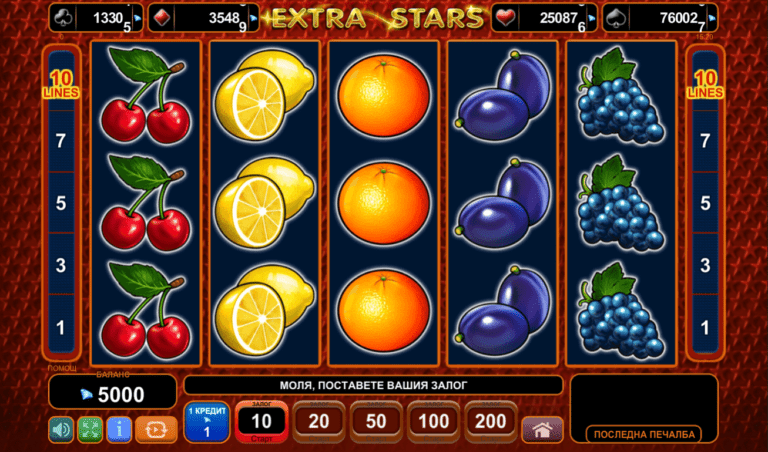 Created by the renowned software developer EGT, the Extra Stars game is part of the fruit slots genre. Extra Stars offers 5 columns and 10 paylines. Players have buttons to place a bet, rotate the columns, help and information, and zoom and mute.
How to play Extra Stars
Before scoring your first spin, you must place a bet. Below the columns of the slot are 5 fixed bets (10, 20, 50, 100 and 200). Selecting one of them automatically rotates the columns. The Turbo Spin button allows you to spin the columns multiple times without interruption. Any win or loss can be tracked in a special column in the lower left corner of the game showing the available balance.
Winnings and bonuses in the game Extra Stars
The maximum profit you can register is 1000 diamonds. You get them in the event that the winning line reports the appearance of 5 "7" symbols. If you want to know what the winnings are from other symbols and combinations, press the button with the three horizontal lines located in the lower right corner of the game. From there, a menu will appear in which the "i" icon (for information) is present.
The Extra Stars slot game offers jackpot cards in the form of a bonus that is activated from time to time. There are four types of jackpot cards that can be accessed when you accept the sporadically appearing Mystery bonus.
Which online casinos offer the Extra Stars slot game
Take the opportunity to play Extra Stars slots for free on the Kazinoigri.com platform to gain knowledge and experience about the slot. Once you feel confident, don't hesitate to try your luck in a real casino where you can bet and win real money.
To the right of the game you will see a column with some of the most reliable casinos we recommend – Winbet, Palms Bet, Sesame and Betano.
Frequently Asked Questions
Who is the manufacturer of Extra Stars?
The well-known software developer EGT – Euro Games Technology.
How many lines does Extra Stars have?
The slot game has 10 lines.
How many columns does the Extra Stars spinner have?
The carousel has 5 columns.
What is the return to player (RTP)?
The return to player is 95.78%.
What is the theme of the slot?
What is the minimum I can bet on Extra Stars?
How much can I bet on Extra Stars?