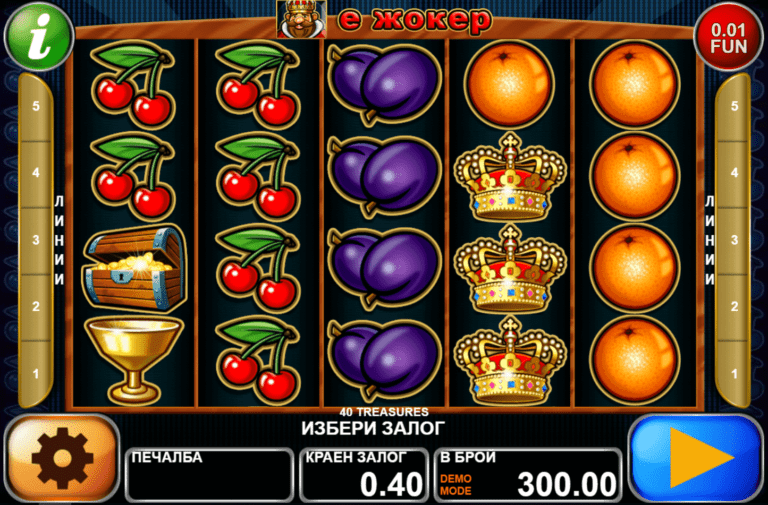 One of the undisputed favorites in creating slots, Casino Technology is also the creator of the attractive 40 Treasure slot. You can play the slot from your computer as well as from your smartphone and tablet. Be a part of the exciting experience that 40 Treasure will offer you. This is one of the favorite games among slot lovers.
Как се играе 40 Treasure
The reel consists of 4 rows and 5 reels. Before the actual play begins, you have to choose the number of paylines and then the size of the bet. The game offers the option to select autoplay as well. It starts with an available credit of 300. With each placed bet, the amount decreases, and with each realized profit it increases.
If you win below a preset value – 25 x maximum bet, you have the option to double the amount by using the x2 button. It is located in the lower right corner. Pressing the button opens a bonus game. In it you have to guess the color of the drawn card. If you win, the profit is doubled, if not – you lose the amount won.
Winnings and bonuses in the game 40 Treasure
The game has a maximum number of 40 paylines. You can choose their number, and the options offered are: 5, 10, 20, 30 and 40. You can change it from the settings menu or through the buttons on the side of the game screen.
The game's fruit symbols have different win values. They can be combined in a combination of 3, 4 and 5 symbols. The remaining 4 symbols in the game are goblet, chest, crown and king. The Crown represents the Scatter symbol in the game and the King is the Wild symbol. It participates in combinations with all symbols except the chest. When combined with them, it realizes a win corresponding to the base symbol.
Which online casinos offer the 40 Treasure slot game
You have the opportunity to play the slot completely free of charge on the kazinoigri.com platform. Gain confidence in your abilities and take your game to the next level in a real casino with real winnings.
To the right of the game you will see a column with some of the most reliable casinos we recommend – Winbet, Palms Bet, Sesame and Betano.
Frequently Asked Questions