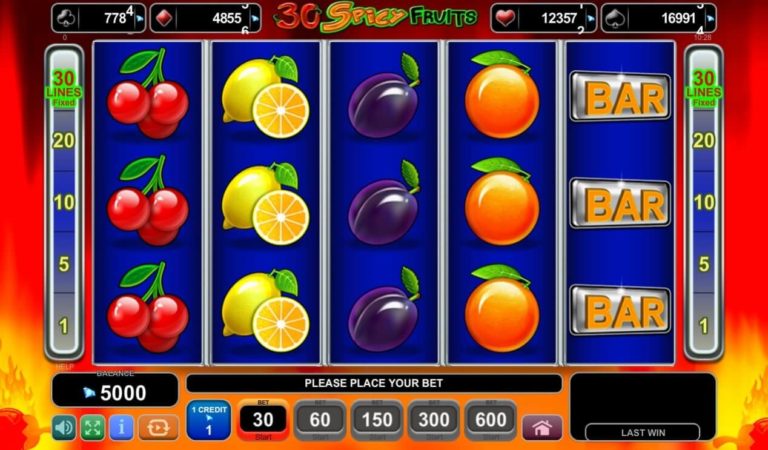 30 Spicy Fruits is the work of software developer Euro Games Technology. The game has 5 reels and 30 paylines. Its interface is represented by the well-known fruit motifs. It is suitable for playing both on a laptop, tablet and smartphone. It is a favorite among slots lovers as it is easy to play and also offers many opportunities to win.
How to play 30 Spicy Fruits
The aim of the game is to land a combination of symbols on any of the winning lines. When this happens, you win a prize based on the symbols drawn. Similar to the slots created by Euro Games Technology, the game starts with a bet selection and automatic spinning of the reels.
Wins and bonuses in the game 30 Spicy Fruits
The Scatter symbol in the game is a Bag of Money and it brings from 7 to 30 free spins if it appears at least seven times in the second, third or fourth column. With seven appearances, you also earn 60 diamonds.
The wild symbol is a hot pepper and awards 10, 50, 250 and 1000 diamonds if it appears 2, 3, 4 or 5 times in a line. It also replaces all other symbols except the scatter symbol. Here's what the others will bring you:
– BAR – за три такива символа печелите 6 диаманта, за четири – 15 диаманта, за пет – 25 диаманта;
– Портокали и сливи – за три символа печелите 4 диаманта, за четири – 15 диаманта, при 5 пет – 20 диаманта;
– Лимони и череши – три символа носят 2 диаманта, четири символа – 8 диаманта, при пет символа получавате 20 диаманта;
– 3 BAR – три от тях ви носят 8 диаманта, за четири – 15 диаманта, а за пет символа получавате 40 диаманта;
– 2 BAR – печалбите са както при 3 BAR, но тук при пет символа получавате 30 диаманта;
– Седмица – при два еднакви печелите 5 диаманта, а за три, четири или пет съответно ви се дават 10, 20 и 50 диаманта;
– Камбана – при два реализирани такива 4 диаманта, при три – 10 диаманта, а при четири – 20 диаманта. Най-много печелите при пет реализирани символа – 45 диаманта.
Bonus levels are two in number. One is triggered by pressing the GAMBLE button. This happens when you win and the game takes you to an extra round where you have to guess the color of the face-up card. If this happens, your profit is doubled.
The second bonus is a jackpot mystery, in which you have to open 3 cards of the same color out of a total of 12. This way you have the opportunity to win the jackpot that corresponds to the given suit.
Which online casinos offer the 30 Spicy Fruits slot
You can play the slot completely free on the kazinoigri.com platform. This way you will gain experience and confidence and be ready to play the game in a real casino with real winnings.
On the right side of the screen, next to the game, you will see the most reliable casinos we recommend – Winbet, Palms Bet, Sesame and Betano.
Frequently Asked Questions