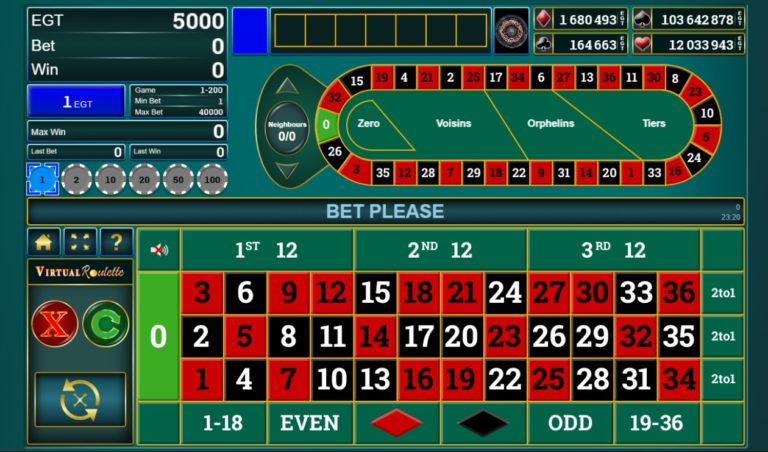 Welcome to the exciting world of virtual roulette! It offers the same immersive experience as its physical counterpart, providing added convenience and ease of play.
Whether you are a beginner or an experienced gambler, virtual roulette is a great way to enjoy your favorite game without leaving your home.
You can play Virtual Roulette anytime, anywhere as long as you have an internet connection. You will not have to visit a physical casino and wait for a free table and dealer. Enjoy a great game of roulette without leaving your computer.
Virtual Roulette is a product of industry giant Euro Games Technology.
How to play Virtual Roulette
The object of the game is to guess which number or color the ball will land on. You can bet on a number, a group of numbers, a color or a combination of the two. All you have to do is select where you want to place your bet and the virtual dealer will spin the wheel.
As the wheel spins, you will experience the same thrill and excitement as playing in a real casino. If your guess is correct, you will be rewarded with a payout.
When playing virtual roulette, it's important to remember to set a budget and stick to it. This will help you not to overspend and keep your funds under control.
Winnings and bonuses in the game Virtual Roulette
Playing virtual roulette is an exciting and rewarding experience! With each spin of the wheel, players can win big prizes with various bonus options such as free spins and multipliers. In addition, the game offers the opportunity to win additional prizes through special promotions and tournaments.
Which online casinos offer Virtual Roulette
On kazinoigri.com platform you can play Virtual Roulette completely free. This way you will gain experience and confidence and be ready for real bets with real winnings in casinos.
On the right side of the screen, next to the game, you will see the most reliable casinos we recommend – Winbet, Palms Bet, Sesame and Betano.